Shukubo(Overnight at a Buddhist temple)
Click Here to Make a Reservation
Koyasan is one of the best places to experience a night at a temple.
About fifty temples in the area function as Shukubo, where tourists are welcome
to stay overnight, try shojin ryori, the vegetarian cuisine of monks and participate
in the morning prayers.
Stay with us to learn the traditional Japanese way of life in Shukubo temple.
The Garden
The garden of Sainanin was designed by Mirei Shigemori.
Mirei Shigemori :
One of the most important 20th century garden architects and historians; designed
the new abbot's hall garden at Tofukuji in
1938/1939, the Zuihoin and Kishiwada Castle in Osaka (1953) as well as ninety
other religious and residential gardens.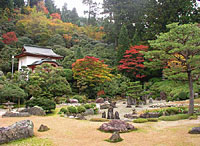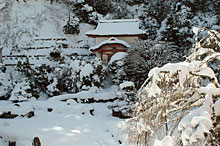 Guest rooms and corridors overlook the garden.
Shojin Ryori(traditional vegetarian cooking)
Vegetables, especially soy beans and nuts are the main ingredients used in
these dishes, and are prepared according to season. In spring, we use new
sprouts; summer, the full grown green leaves of local trees; autumn, fruits,
mushrooms and nuts filled with nature's blessing; winter, roots that warm
the body from the core. Using these fresh, natural ingredients, our menu
is suited to all seasons.
(Click on the thumbnail to see the larger picture.)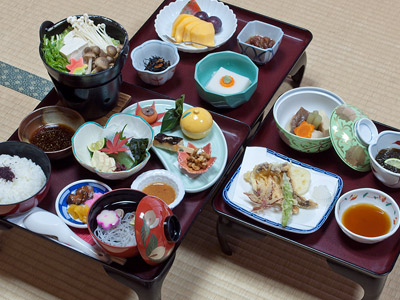 Guest Rooms
All guest rooms are of the traditional Japanese style with Tatami floors,
Shoji paper wall panels, Fusuma doors, Futon beds, and public baths and toilets.
(Click on the thumbnail to see the larger picture.)